NuFlours Now Making Gluten-Free Buns for Blue Moon!
---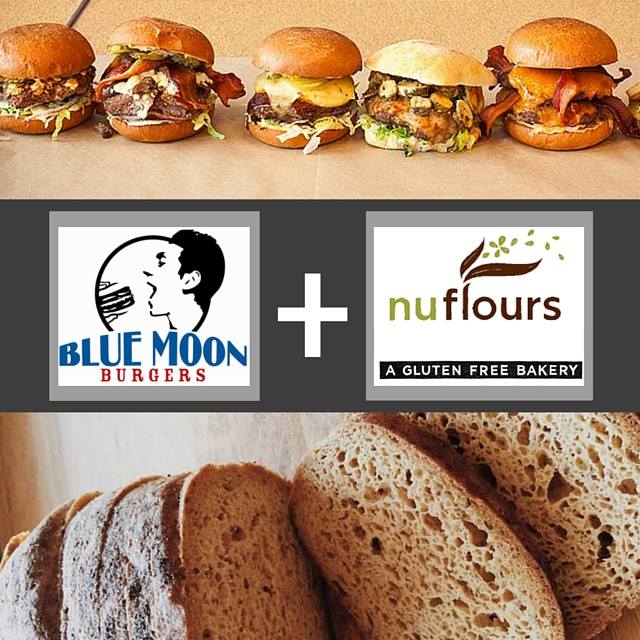 Blue Moon is incredibly excited about our latest partnership: the amazing gluten-free Seattle bakery NuFlours is now making burger buns for our gluten-free customers! We are overjoyed to not only be offering a fantastic alternative for our many gluten-free customers, allowing them to fully enjoy our wide range of burger options, but we're also proud to be working with a local Seattle business with sterling product standards!
Many Seattle restaurants offer gluten-free bread options, but they often get their breads from industrial factory sources, buying either from a supermarket or industry supplier, or having the bread shipped to them frozen. NuFlours is not only local, but they also work in small hand-made batches. They make their breads fresh daily, and never use preservatives.
If you've tried many gluten-free breads in your time, you know that they can range from the incredible to the absolutely un-eatable. Blue Moon Burgers was very careful to choose a gluten-free bun that will consistently delight our customers. If you're gluten-free, you don't have to be afraid of that constant disappointment every time you gamble on a new gluten-free product. We chose NuFlours because they're some of the best gluten-free bakers in the business, and we only want to use ingredients we can be proud of!
We've always offered the Paleo Burger—a lettuce wrap choice—but now you can have any our burger options just as they'd be enjoyed by anyone else! Perhaps even more incredibly, we also offer the following delicious gluten-free sides:
Chicken Tenders

Chicken Wings

Onion Rings

All Fries (Regular, Sweet Potato, Curry, Chili Cheese, & Garlic Parmesan!)
You'll be hard pressed to find another burger joint where you can enjoy a high-quality gluten-free bun alongside a basket of gluten-free items like Chicken Tenders or Onion Rings. We're proud to be leading the pack in terms of our menu diversity and accessibility, and we hope you'll come in soon and try our sumptuous gluten-free menu for yourself!