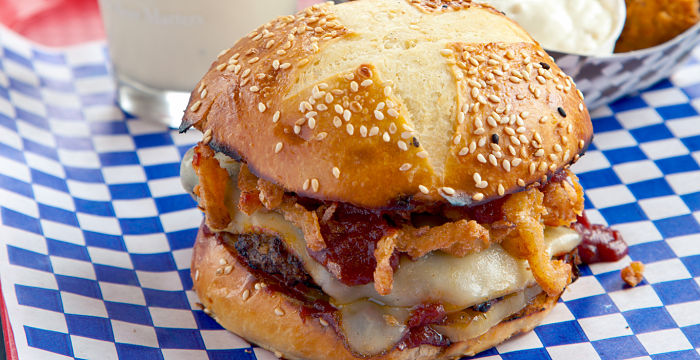 WEDNESDAY NIGHT – 1/2 PRICE BURGER NIGHT AFTER 4 PM
Yes, you read that right – you can enjoy our 100% delicious burgers at just 50% the cost every Wednesday after 4:00 p.m.!  Just purchase any side order & beverage, and we'll cut the burger cost right in half – awesome!
======================================================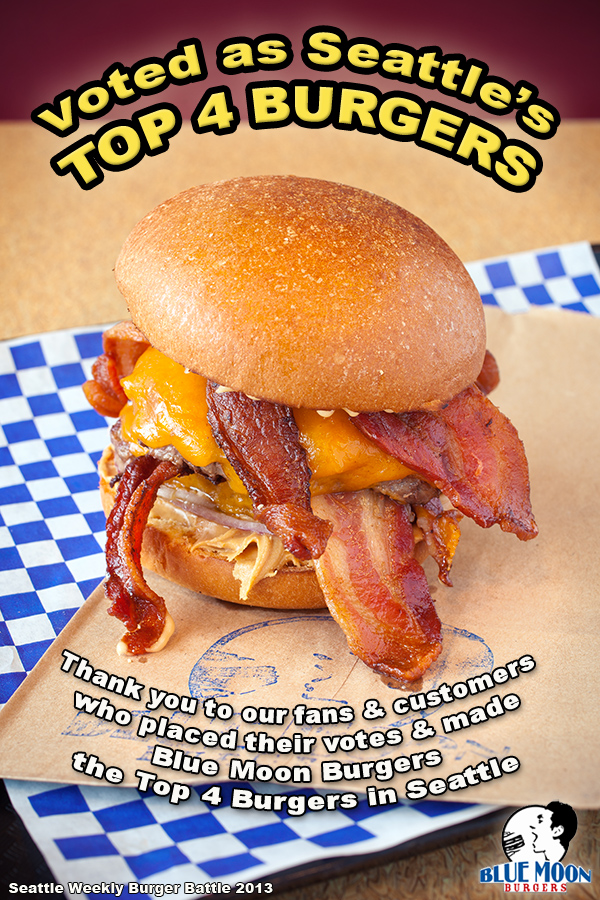 SEATTLE'S TOP 4 BURGERS!!!
Thank you to our fabulous Customers & Fans who voted Blue Moon Burgers as Top 4 Burgers in Seattle in the Seattle Weekly 2013 Burger Battle!
You guys & gals are THE BEST!
======================================================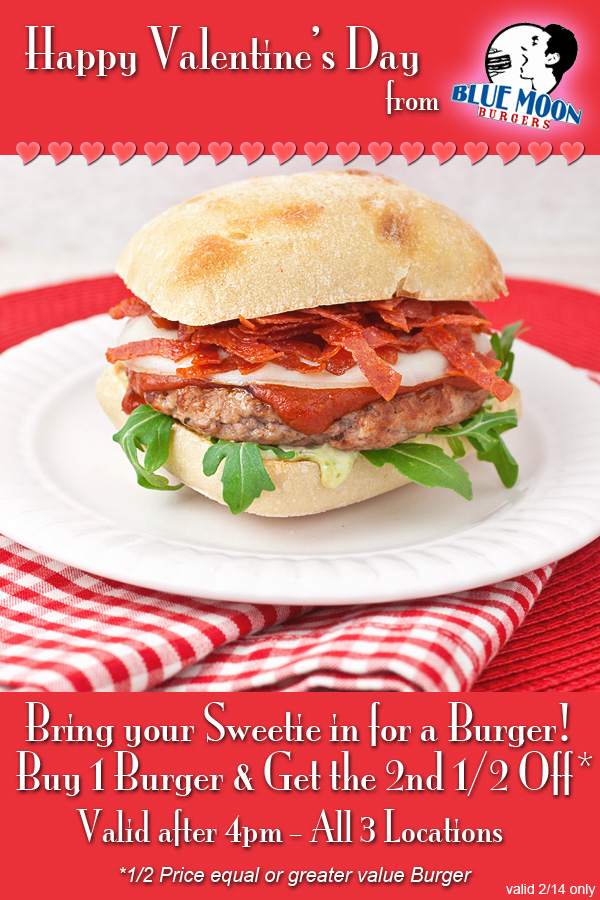 1/2 PRICE VALENTINE'S DAY BURGERS!
Happy Valentine's Day from your friends at Blue Moon Burgers!
Bring in your Sweetie after 4pm on February 14th, 2013 Buy 1 burger and get the second (of equal or lesser value) at 1/2 Price!
We love Love and we love our Customers!
======================================================
BMB DONATES "A BUCK A BURGER" TO NORTHWEST HARVEST
Promotion for National Hamburger Day Saturday, May 28

Our philosophy at Blue Moon Burgers is that EVERY day is "burger day", but we are thrilled
that the rest of the nation will acknowledge our awesomeness Saturday, May 28, which is
National Hamburger Day.
You will no doubt see a variety of restaurant promotions commemorating this glorious
holiday, but here at BMB we have come up with a new idea that we think you'll really like.
Instead of merely helping your tastebuds celebrate and basking in our own good fortune to be an awesome
burger joint, we'd like to give back to our community which supports us all year long.
Instead of just plumping up our bottom line like a big fat juicy cheeseburger, Blue Moon Burgers will
donate $1 for each burger sold on May 28 to Northwest Harvest. That's right – the Boys at Blue Moon Burgers will kick in "a buck a burger" from all sales at our South Lake Union and Fremont stores on National Hamburger Day (5/28). Like the song says, we believe the children are our future – and we want to help
Northwest Harvest replenish food stocks for the summer months, when families that normally depend
on free or reduced-price school meals may struggle to provide those meals at home.
It's a delicious way to give back, and you'll feel even better knowing that with just 67 cents, our friends at
Northwest Harvest can feed a family of three one nutritious meal – so your donated buck goes a long way!
Make your lunch and dinner plans now for May 28, as Blue Moon Burgers donates "a buck a burger" for sales
on National Hamburger Day, to benefit Northwest Harvest.
Blue Moon Burgers: Helping people feel good about making making bad choices,
for a good cause.