THE OFFICIAL BURGER OF PLANET EARTH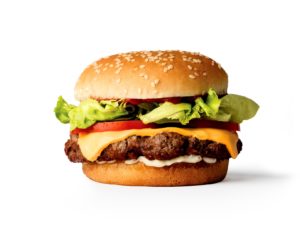 THE IMPOSSIBLE BURGER HAS ARRIVED AT BLUE MOON BURGERS
ITS HERE, A DELICIOUS BURGER MADE ENTIRELY FROM PLANTS FOR PEOPLE WHO LOVE MEAT.
NO NEED TO COMPROMISE ON TASTE.
We are excited to announce we have partnered with Impossible Foods to bring you the Burger that is blowing up the internet. Now you will be able to enjoy the IMPOSSIBLE BURGER Patty on anyone of our Mouthwatering Burgers. For those of you who have not heard of the impossible burger is AN INSANELY GOOD BURGER MADE WITH SANELY GOOD INGREDIENTS.
The Impossible Burger is made from simple ingredients found in nature, including wheat protein, coconut oil, potato protein, and heme. Never heard of heme? It is responsible for the characteristic of taste and aroma of meat, it catalyzes all the flavors when meat is cooked.
Not only is the IMPOSSIBLE BURGER Patty delicious, it is great for our Planet!!
Choosing just one Impossible Burger Patty is the equivalent of sparing an 18-mile drive in a car, a 10-minute shower, and 75 sq ft of land. Comparatively, Impossible Burger utilizes 87% fewer greenhouse gas emissions,  74% less water, and 95% less land than conventional beef
Order your
Impossible Burger Now