The Savage Love Burger To Benefit Washington United for Marriage
---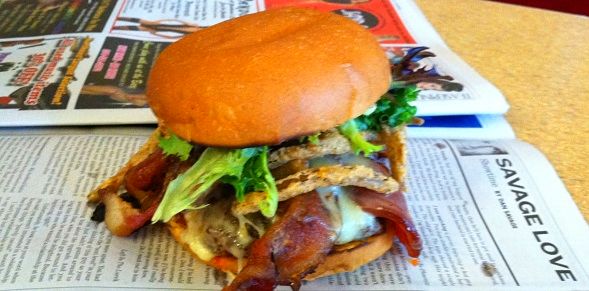 This month we have teamed up with our favorite sex columnist Dan Savage to come up with "The Savage Love Burger" for a very special cause.  Blue Moon Burgers will contribute 25% of the proceeds from the sale of August's burger to support Washington United for Marriage in its efforts to get Referendum 74 approved.
We start with a 1/3 pound premium beef patty and then add hot melted Swiss cheese, crispy Apple Smoked Bacon, a sprinkle of our own crispy onion straws, and roasted red pepper aioli, all sitting atop a bed of freshly tossed mixed greens, snuggled between two freshly toasted Larsen's Buns – and there you have the "Savage Love Burger"
We are proud to be part of a coalition of organizations, congregations, unions, and businesses working together to defend civil marriage for loving, committed same-sex couples.  Blue Moon Burgers – helping make the world better one burger at a time!