We are excited to be partnering with Northwest Ranchers to supply Certified Angus Beef raised by Northwest Ranchers.  Our Beef is grown by Ranchers like our friend Brian & Deb Gotham, who along with their family owns and operates the Gotham Ranch in Republic, Washington.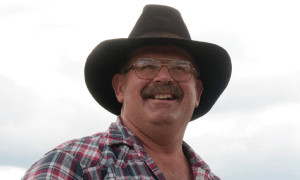 We asked Brian (that is his picture to the left) what makes his beef different and he explained "Our key difference is that we run our cattle from April to December in the high country.  Our calves are born in the summer on green grass and watered from streams fed by melting snow. It's as close to a pristine environment as you can get"
On the Gotham Ranch, the herd roams 74,000 acres of open range in northern Washington grazing on foliage which is free from herbicides or pesticides. The calves grow up without antibiotics or added growth hormones.  We are glad that Brian has Cattle or that would be a lot of lawn to mow.
It's a way of ranching that has prevailed for generations in the area which is strictly rural. Ranching, timber, and mining are the main industries, just as they have been since Ferry County was formed.
We proudly support local ranchers like Bryan and Deb Gotham to provide the best sources of beef which offer a superior Burger Experience.